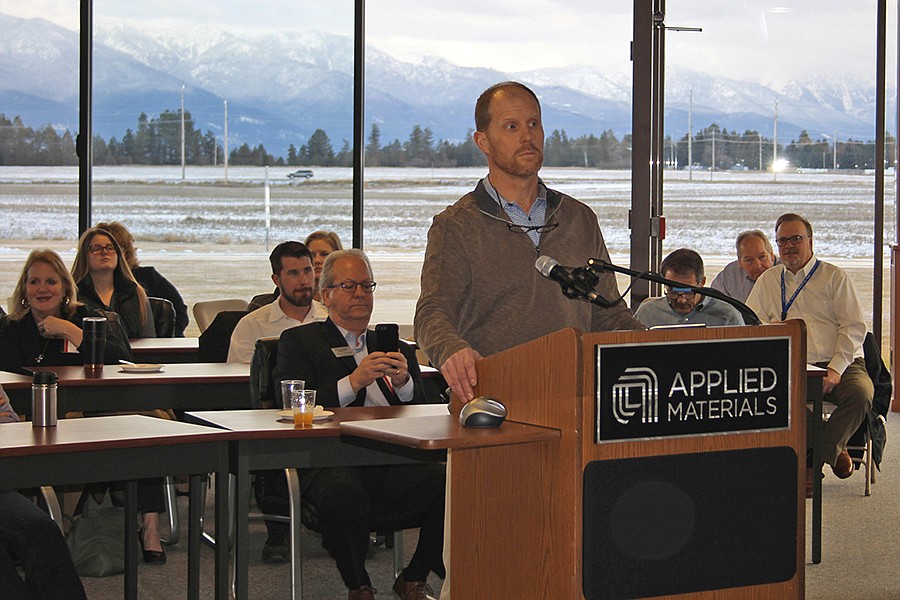 Applied Materials plans to purchase Shopko building from Evergreen
Technology maker Applied Materials is looking to expand operations in Flathead Valley with plans to purchase the empty Shopko department store building near the intersection of US 2 and Montana 35 in Evergreen.
Ricky Gradwohl, senior director of communications at Applied Materials, confirmed the plan on Thursday.
"Applied Materials is expanding our Kalispell facility to support our growing business," said Brian Aegerter, the company's general manager for Montana, in a statement.
Applied Materials already operates two Kalispell facilities – one on West Reserve Drive and another at the corner of US 2 East and Birch Grove Road. The company manufactures equipment for semiconductor chips used in cell phones, televisions, solar panels and other electronic devices.
Based in Santa Clara, California, Applied Materials has operations around the world, including Japan, Israel, India and Europe.
Aegerter said the company currently has 600 employees working in the Flathead Valley and 90 manufacturing, supply chain and engineering jobs.
"The work we do has roots stretching back over 40 years in the Kalispell community, and today our Applied teams make some of the most innovative products for the semiconductor industry," a- he declared.
Applied Materials' local presence grew out of the legacy of Semitool, a semiconductor manufacturer founded in Kalispell in the 1970s.
In 2009, Applied Materials bought Semitool – its former competitor – for $ 364 million.
The company established the Reserve Drive facility as its local headquarters. It also transformed the old Costco building on Birch Grove Road into its packaging, plaque and cleaning plant.
A third Applied Materials store in Libby closed in 2015; all of its 17 employees have been offered positions at Kalispell.
The former Shopko store measures approximately 98,000 square feet and spans over 8 acres of land. The building has been empty since Shopko declared bankruptcy in 2019 and closed 360 stores.
A few months after the Evergreen Shopko closed, Kmart closed its 88,000 square foot store just across the street.
Since then, no solid plan has materialized to use the two spacious buildings and their expansive parking lots.
In 2020, the county valued the Shopko building at $ 4.3 million and the Kmart building at $ 3 million.
Local developer Curt Lund is building The Woodlands, a residential community for people 55 and over, behind the Shopko site. Construction of the second of The Woodlands' four buildings was completed in May.
Connie McCubbins, executive director of the Evergreen Chamber of Commerce, was excited to hear about the potential sale of the building.
"We're just happy that someone is moving into the building," she said.
Journalist Bret Anne Serbin can be reached at 406-758-4459 or [email protected]