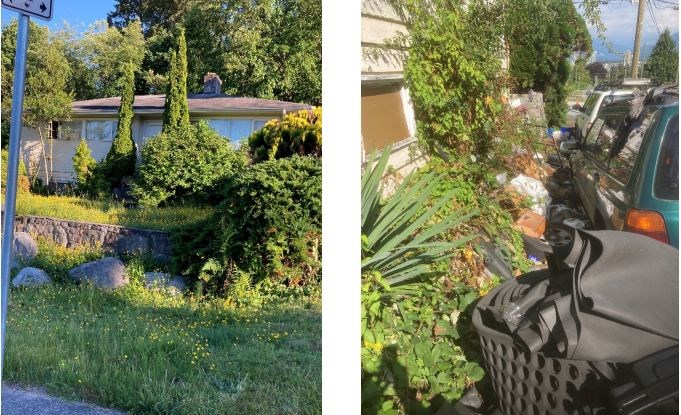 Burnaby wants to clean unsightly property for the second time
The City of Burnaby is asking council for permission to enter and clean up an unsightly "dirt" property after numerous complaints from neighbors and little action from homeowners, according to a city report.
If approved, this would be the second time the city would have to do so for the house, which is located on Nithsdale Street, just north of Burnaby Hospital and east of Boundary Road.
The staff report says the city has received several complaints dating back to 2008, with 12 inspections carried out by city staff since 2018.
The inspections found the following:
Overgrown grass, weeds, vines and blackberry bushes
Discarded items including, but not limited to cardboard boxes, plastic bags, kitchen utensils, wood, insulation, luggage and garbage bags, as well as various electronic items
A vehicle without a license and possibly abandoned. An abandoned vehicle is considered to be any vehicle which is not insured for road use and which is unusable.
"This place is shameful," said a resident of Nithsdale when the NOW deposited by property. "The whole neighborhood is embarrassed about it and no matter how much we complain to the city and the owner, nothing gets done. But now I'm happy to hear that the city is going to clean it up.
There have been a total of five unsightly complaints against the property since 2008, received from three different people, according to the report.
Following complaints received in 2008 and 2011, council approved a staff recommendation for municipal staff to clean up the property. The property was cleaned in 2012. Since the site cleanup in 2012, three additional complaints have been received.
The staff report details various attempts to speak with the owner over the past three years, with mixed success, as well as a series of rule violation notices issued, without all being paid.
The report says that in August, the city informed the owner that if the property was not brought into compliance, it would be cleaned by the city at the owner's expense. An invoice will be issued to the owner and if not paid, it will be charged to the owner's property tax bill.
This is actually the second time in recent months that the city has had to clean up an unsightly property. A property on Georgia Street was cited by city staff this summer.