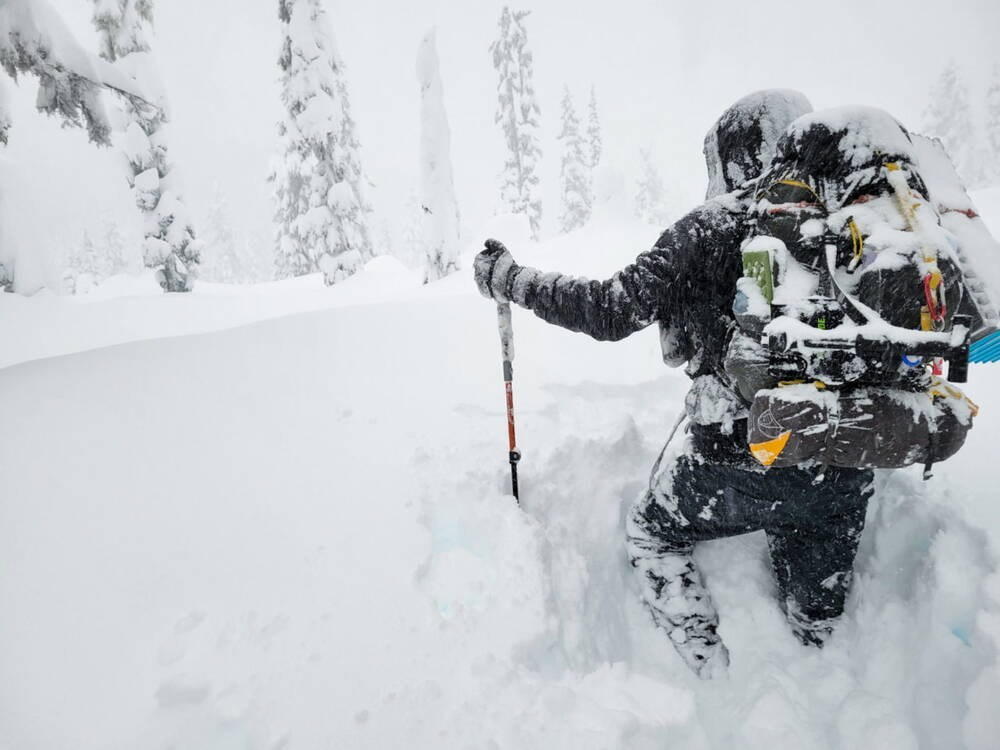 Strathcona Park Rescue on Vancouver Island
The snow became waist deep during the storm at Strathcona Provincial Park and caused their tents to crumble
After being rescued from deep snow during a storm in Strathcona Provincial Park this month, Nanaimo's Evan Paterson thinks his next adventure will be in warmer weather. He plans to climb Mount Albert Edward, also in Strathcona Park, this summer.
Although experienced in the outdoors, Paterson said Saturday that he and his brother-in-law Luke, "have certainly learned a new appreciation for what the Vancouver Island weather can produce."
The 27-year-old mechanic set off Jan. 1 with his brother-in-law Luke, from Kingston, Ont., for an overnight winter campsite on Mount Drabble in the Forbidden Plateau area of ​​Strathcona Park on the Vancouver Island.
But the harsh weather surprised them, forcing them to change their plans and use an emergency device to call for help on the morning of January 2.
They intended to use their snowshoes, but the depth of the snow and its continuous accumulation made them practically useless.
The two eventually made it to a ranger cabin, arriving as a search and rescue team of four skied away. The rescuers' skis compacted the snow enough for Paterson and Luke to follow their snowshoes until they finally reached the waiting snowmobiles.
The snowstorm saw them abandon the plan to reach Mount Drabble to camp at Lake Kwai instead.
"We expected adversity with snow overnight, but not the amount that actually happened," he said.
The couple each had a yellow one-person tent, waking at midnight to find "the dimensions of the tent had become smaller". The snow had fallen and had settled against their tents. Luke called Paterson that he thought they might be buried. At the same time, Paterson said: "I was noticing my breathing rate was increasing and he mentioned he had a headache."
They used a collapsible shovel and spent an hour digging their tents in the snow. The gravity of the situation became clear the next morning.
The snow was so deep it took them an hour to walk a few hundred yards, Paterson said.
They were "just pushing through to our waists" in new snow, he said. "We alternated taking turns taking the lead to break up the snow with the hiking poles to make it crumble a bit on itself." The leader stepped on the snow to pack it down so the other could follow.
The two continued like this for a few hours, he said. "We just stuck to the plan because there really wasn't much else to do. It was kind of out of our control. But we decided we had to find an alternative.
A ranger's cabin a few miles away became their new destination.
"That's when we decided we needed to let someone know we might need some help."
Paterson reached out to his partner to send a message that they needed help, using his SPOT satellite messaging device.
She contacted the RCMP who contacted the Comox Valley Search and Rescue organization. The messaging device features a GPS map allowing others to track their location on the Internet.
Paterson could only send a one-way message and hope it was received.
As they continued, they received a call on their mobile phone from rescuers asking if they could reach the ranger cabin. Callers could not hear Luke's response and cell service was cut off.
The couple climbed two steep hills to get to the cabin.
"It wasn't a normal thing in terms of hiking," Paterson said. Moving around in the snow meant they spent hours "having to pull straight up with their upper thighs because it just clung to their leg."
"We were starting to have crazy cramps."
The trek required mental endurance because they knew "the right thing to do was not to worry about it.
"So worst case scenario we were going to spend another night in our tents. It would have just been every two hours of us digging again. "
They felt it wasn't worth risking a second night in the park as they didn't know if the weather might get even worse.
Both men are experienced in the outdoors and each had a 40-pound bag full of gear and supplies, including food and dry clothes.
Paterson praised the search and rescue team, which had traveled to the area to help another group in the park.
"I think this all really shows that it can happen to anyone and even a simple day hike could turn into an overnight thing."
Search and rescue officials told them that calling for help early in the day was a factor in reaching them that day rather than the next.
Paterson said they also noted that he took a physical map, rather than just relying on electronics that can be taken out of service. The two were well stocked with supplies and had left information, including a detailed map, outlining their plans.