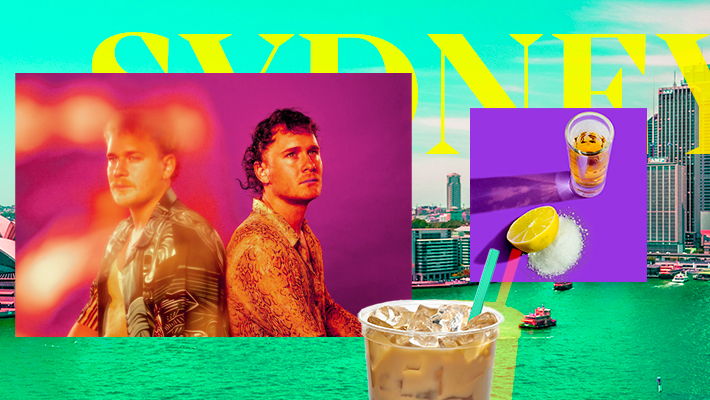 The best things to do in Sydney, told by Cosmo's Midnight
Lately, we've been actively building our future travel itineraries as we prepare to finally go on all those vacations we've been postponing to *check the wrist (you know, where the calendars go now)* two years. And what better city to dream of visiting than Sydney, Australia? For the past two weeks, Australia has now been fully open to all vaccinated travelers and it is certainly one of the first countries on our list as we head out into the world again. With beautiful blue harbours, delicious cuisine and some of the most awe-inspiring landmarks, both man-made and natural, Sydney is full of splendour.
But in a city with so many things to do, what's the best way to relax and enjoy what's around?
To find out, we contacted Australian electronic duo Cosmo's Midnight, who provided us with a guide to their favorite staples for chilling out in Sydney. The duo, made up of twin brothers Cosmo and Patrick Line, have five gold singles to their name, collaborated with BTS, received a co-sign from Pharrell and charmed Triple J DJs with their funky mix of strumming guitar. 70s, swirling polysynths and uplifting, driving house beats.
This sound is showcased perfectly on Cosmo's Midnight new single, the addictive and funky "Can't Do Without (My Baby)", which is both nostalgic and futuristic, and almost impossible not to have a good time at. listen to it. It feels like spring – all buzzing, vibrant and euphoric and its feel-good vibe makes us feel optimistic about the days ahead, something we haven't felt in a while.
Listen to "Can't Do Without (My Baby)" and delve into the duo's favorite Sydney spots.
Best place for coffee?
Coffee 86
Cafe 86, Cabramatta. Perfect for the best Vietnamese iced coffee, a little out of the way if you don't live in Western Sydney. But it passes the mood test. Lots of old guys smoking cigarettes and playing mahjong.
Best natural place to unwind and relax?
Bronte Pool
Bronte Pool is a haven of peace, an oasis in an arid desert. We go to Bronte to check ourselves and freshen up. I try to visit this place several times a week throughout the year as it is one of the best sea pools in Sydney and not too far from some of the nicer and less crowded ones .
Arthur Mcelhone Reserve
Located in Elizabeth Bay, right next to the CBD, this place is perfect for laying down after too much sun or a boozy day in a smaller park. This park is extremely lively with lush grass, a mossy bridge and a Koi fish pond and is not so large that you feel like you have no seclusion.
Also great views of Sydney Harbour.
What's your favorite hidden Sydney gem?
Petersham Bowls Club
By far the underdog bowls club for people my age. This one is mostly populated by people in their early 40s so you might feel a bit out of place as it's located in the family suburb of Petersham. But it's always been a gem, especially before the gentrification of the suburbs. It's surrounded by jacaranda trees and close to Petersham Park so you get the longest sunset, so lovely.
Best place for a drink?
Canteen OK!
Best mezcal only bar in Sydney. Most of the drinks are carefully sourced from Mexico and taste amazing, they're also only suitable for a handful of people, so it doesn't look like a massive ordeal to drag around.
Favorite food stains?
chinese noodle house
This place is a Chinatown cultural institution. You know which store to look for because there are fake grapes hanging from the ceiling. So good to buy a Tsing-Tao from the bottle shop next door and sit outside in the balmy summer heat and mash up some special braised eggplant and knife-sliced ​​noodles.
Wilson Lebanese Restaurant
I think this is one of Sydney's oldest Lebanese institutions and has such a huge vibe, huge draped ceilings, dim lighting, and most importantly they have some of the most esoteric/delicious food you'll ever find you can't find anywhere else. It's in Redfern so should be an easy trip for anyone and we've been coming here since I was about 10 so you can trust me when I say it's good.
Sweet Belem
This is a Portuguese bakery in Petersham famous for its pastel de nata. Portuguese tart goes best with a nummy Cappuccino with extra chocolate. Bonus: across the street is Frangos, an iconic chicken shop that has arguably the best charcoal chicken/burgers in Sydney.
When I'm feeling low/hungover, I'll go straight from sweet Belem to Frangos for a real greasy pickup.
Best beaches?
Castlerock in Clontarf
I rarely go across the Sydney Harbor Bridge, but sometimes I go to Castlerock to swim at high tide. This is one of the best beaches in Sydney Harbour, trust me I've tried them all. If the stars align and you come here at high tide, expect a revelation. This guy is walking around on a boat making terrible coffee for anyone who yells at him, which is cool.
Karloo Pools
This is an incredible freshwater lagoon that you can access with a short hike from Heathcote station. Expect plenty of giant goannas and guys smoking shishas around the water all day. The lagoon is cool, so it's hard to swim without sinking, so don't expect to swim laps there.