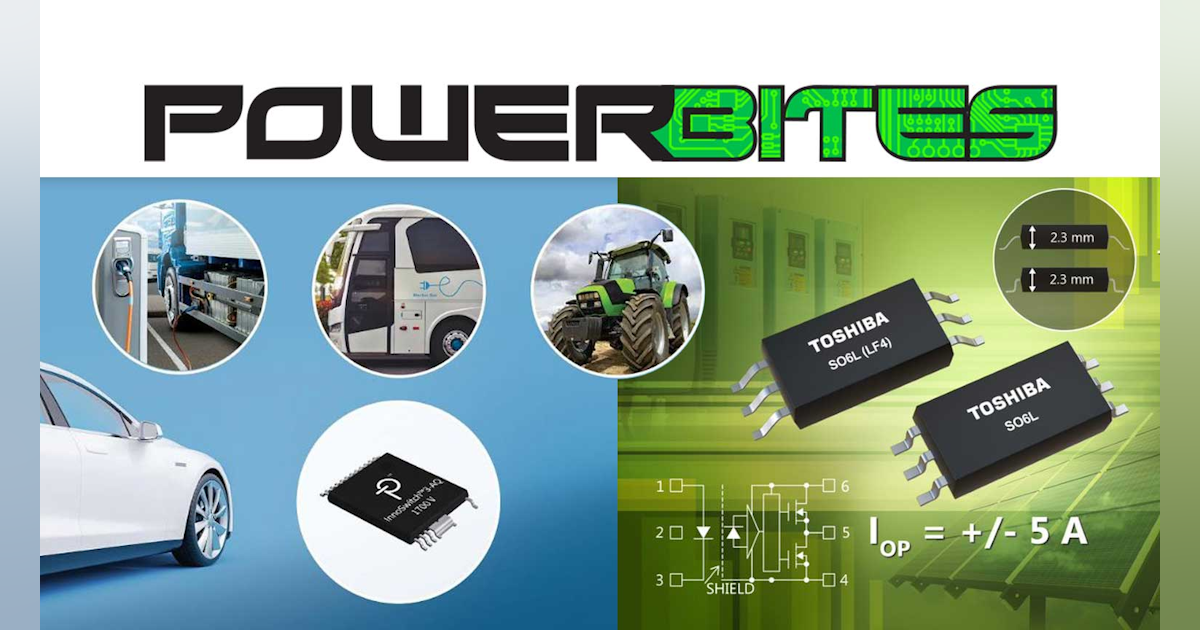 This Week in PowerBites: Spotlight on Optocouplers
This article is part of the This week in PowerBites Series
Welcome to the optocoupler-ology department of ED
Simple, (mostly) reliable, and based on decades-old technologies, we often take the optocoupler for granted, despite the vital role it plays in many power applications. But we ignore these devices at our peril as they continue to evolve to meet more stringent requirements, including safety, emanating from advanced battery systems, motor drives and other power conversion systems.
Since these indispensable workhorses are sometimes overlooked in favor of more glamorous power technology, we're devoting this issue of PowerBites to some recent developments in optocouplers and their alternatives.
Optocoupler Longevity 101: Würth White Paper Offers Actionable Insights into Design for Reliability
If your designs involve optocouplers, this is probably worth downloading Würth Electronics application note on the factors that can degrade the performance of these devices and reduce their reliability. Application Note ANO006, titled "Optocoupler Lifetime", begins with an introduction to the basic features and functionality of the devices. Then it dives into electromigration, dislocation nucleation and growth, metal diffusion, and several other failure mechanisms that attack their innards.
The article explores each failure mechanism, but focuses on electromigration, as it is the single most important factor in the slow decline of a device's LED light output. This includes detailed models of the effects of electromigration on LED performance and reliability, based on a formula for calculating Mean Time Between Failures (MTBF) due to electromigration, originally derived by J. Black in 1969 and Würth's extensive accelerated life tests. The analysis is followed by several practical design guidelines that can significantly extend the life of an optocoupler.
Although the resulting analysis and guidelines were developed using data obtained from accelerated aging tests of 14081614xxx/14081714xxx series of optocouplers, the information it provides can be applied to almost all optocouplers on the market, regardless of manufacturer. Click here to download your copy (.pdf format) of application note ANO006.
Toshiba's low-profile optocouplers deliver high peak output currents
Two compact optocouplers introduced by Toshiba Electronics are designed specifically for applications requiring high reliability and high peak output currents. Housed in a slim SO6L package (10.0 × 3.84 × 2.3 mm), the TLP5705H and TLP5702H are well suited to serve as isolated gate drivers for small to medium capacity IGBTs/MOSFETs in industrial equipment. Applications range from inverters and servo motors to photovoltaic (PV) inverters and uninterruptible power supplies (UPS).
The TLP5705H is Toshiba's first product to provide ±5.0A peak output current rating in a slim SO6L package, while the TLP5702H has a peak output current rating of ±2.5A. The devices' higher peak rating allows them to directly drive the IGBT/MOSFET typically used in the aforementioned AC inverters and servos. This eliminates the need for buffer circuits that would normally be required for current amplification. As a result, this simplifies the design, reduces the number of parts and allows for a more compact solution.
The SO6L package occupies the same footprint and circuit board layout as a conventional SDIP6 package, allowing for easy upgrades to existing designs. Additionally, the SO6L package is thin enough to be mounted on the back of a PCB or used where other physical constraints exist. All new optocouplers operate from a supply voltage (VCC) between 15 and 30 Vdc and offer a propagation delay of only 200 ns. They operate at temperatures between −40 and +125°C, making them ideal for industrial applications and other harsh environments.
Würth expands its family of high-quality optocouplers
Würth Elektronik has strengthened its optoelectronics portfolio with optocouplers in all common packages and CTR (current transfer ratio) values. This includes the WL-OCPT series of phototransistor optocouplers in DIP-4, SOP-4 and LSOP-4 packages. the WL-OCDA is housed in DIP-4 and SOP-4 packages. Both series are also available in a range of leadframe varieties.
Optocouplers feature fast switching times and high DC transmission ratios, even in low current operation. The coplanar housing features a constant isolation gap that guarantees perfect isolation up to 5000 V. Their silicone and polymer materials ensure 100% internal reflection and ensure stable CTR over the entire temperature range. Component CTR values ​​(categorized by type of binning) range from 20 to 15,000%.
Copper leadframes maximize solderability and assembly reliability in the application. In addition, DIN EN 60747-5-5 certified components can be used in an operating temperature range of −55 to +110°C.
Power Integrations' switching ICs use a new alternative to optocouplers
Optocouplers offer an excellent solution for reliable and inexpensive isolation. However, they exhibit several undesirable characteristics, including a limited frequency response, which may make them less suitable for use in the high-frequency switching converters found in an increasing number of applications. In response, Power integrations has developed a inductive isolation technology called FluxLink.
FluxLink is currently used in many of PI's InnoSwitch series switched power ICs. These include the INN3947CQ-TL and INN3949CQ-TL Automotive-qualified switching power supply ICs that incorporate a 1700V SiC MOSFET.
Intended primarily to power low voltage electronics in 600 and 800 V battery and fuel cell electric vehicles, the FluxLink isolation of the converters eliminates the need for a second DC-DC converter to power the regulator circuit. Thus, they require fewer components, have fewer failure modes, and greatly simplify qualification testing.
Click here to read the in-depth review of these products, which includes additional details about these devices and the FluxLink technology that makes them possible.
Read more articles in the This week in PowerBites Series