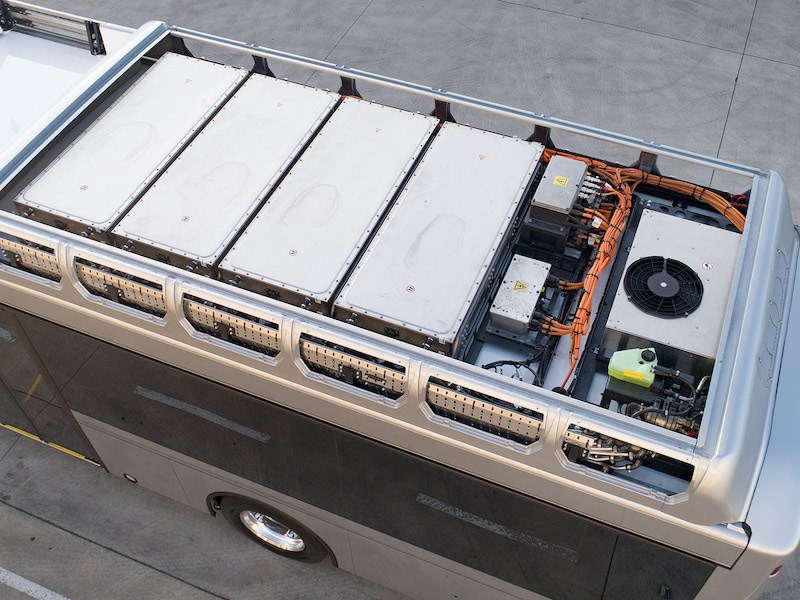 Volvo says safety is at the heart of its DNA BZL Electric
---
Volvo Bus Australia says its thermal management system on its BZL electric chassis increases safety and reliability
Volvo has added a thermal management system to its BZL electric chassis
According to Volvo, while offering Australia's safest, most reliable and longest lasting electric chassis in the Volvo BZL Electric, Volvo Buses continues to raise the bar with the BZL's premium thermal management system which ensures maximum safety and reliability.
Volvo Bus Australia has prioritized embedding comprehensive safety measures directly into Volvo BZL Electric's DNA.
In addition to traditional Volvo Bus vehicle safety features, the electric BZL has been designed to integrate sophisticated technical safety measures specific to high-voltage systems via Volvo's thermal management system.
The Volvo BZL Electric thermal management system incorporates a multi-layered safety system to ensure safe and reliable operation, including a comprehensive protection system in the following areas:
Software, monitoring and design
Several protection systems monitored by on-board vehicle systems and software that ensure:
All electronic control units (ECU) continuously monitor abnormal conditions, including temperature
Hazardous Voltage Isolation Loop (HVIL)
Robust cable construction
Temperature sensors on key components
Activation of the fire alarm if necessary
Power off or shutdown due to high temperature, component or performance
General operating temperatures
Lower overall operating temperatures due to lack of combustion engine and high temperature elements
Less risk of high temperature ignition source for coolant leaks
These components of BZL Electric's thermal management system are essential to Volvo's clear commitment to zero accident safety by providing a comprehensive protection system to mitigate the risks associated with operating an electric bus.
When it comes to passive protection, Volvo's Energy Storage System (ESS) plays a crucial role in protecting the battery in the unlikely event of a malfunction.
To achieve this, BZL Electric's ESS deploys multiple layers of passive space security systems in cell design, short circuit protection, disconnect measures, battery management systems, overall battery pack, thermal management control and abuse/crash protection to ensure maximum battery safety.
---
RELATED ARTICLE: Volvo looks beyond the bus in promoting sustainability
---
Experts have recognized that the best systems have multiple "layers" of security, but most EV manufacturers have one or two defensive lines. Volvo has worked extensively to develop nine layers of safety ranging from chemical choice to mechanical protection to ensure overall ESS safety, especially but not limited to thermal runaway.
For the Volvo ESS, the battery cell (single cell) itself is designed to automatically shut off in the event of a thermal issue, further reducing the risk of a single cell issue spreading to other parts of the Volvo ESS. battery and potential runaway events, providing key elements of protection and safety.
BZL Electric's HVIL is an integral part of this system by ensuring that high voltage is safely contained within the Energy Storage System (ESS) whenever access is required to the vehicle's high voltage system.
"Although we now have ADR regulations and guidelines for electric commercial vehicles, simply meeting the requirements in Australia has never been our approach," says Mitch Peden, Managing Director of Volvo Buses Australia.
"Using the highest global standards and a focus on safety is part of Volvo's DNA and we are committed to innovation and delivering the safest and most efficient technology across our range. Many Much work has gone into designing and testing the complete thermal management of our BZL Electric.System and we are pleased to offer a system that goes beyond industry standards.
"We know that our business partners expect Volvo to consistently deliver the highest safety standards in the market with our products and services. Safety is something Volvo will never compromise on, and our thermal management system is proof of that.
Subscribe to our newsletter
Sign up to receive the ABC e-newsletter, digital magazine and other offers we choose to share with you directly to your inbox
You can also follow our updates by liking us on Facebook.